Handprint and Footprint Art
I found this blog and thought it would be fun to repost for all to enjoy!
I thought it would be fun to make

Halloween Shirts

this year. I dyed one of my son's plain white t-shirts green and the next day we decorated it by making

Footprint Ghosts

and a

Handprint Pumpkin

. You could use a colored shirt but I couldn't find one in a color I wanted and he had some white ones with stains on them that dye could easily cover up.This was my 1st time using acrylic paint on clothing and think I will stick to using only fabric paint next time. To make the ghosts, I painted my son's foot white and pressed it on the shirt to make a footprint ghost body. The acrylic paint dries too fast and I had to fill in gaps on one of them afterwards. The eyes are made with his fingerprints and the mouth is made with his thumbprint. To make the Handprint Pumpkin, I painted just the palm of his hand orange and pressed it down. I used black fabric paint with a tip to draw in the pumpkin's face and to write Boo!
http://funhandprintart.blogspot.com/
You can make these and just put the child's name on them not Halloween.
Baby's 1st Memories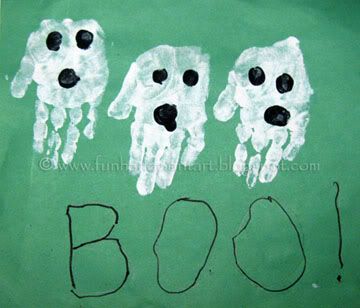 So Cute!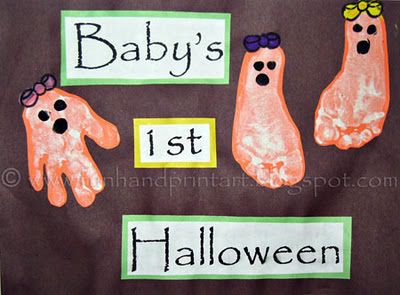 Cute Hand Print Ghost--
or leave off Halloween off and make just for a memory frame.
Foot Print Ghost or Just a Memory Framed Art
This is a great way to
preserve memories
of just how little your child was at one point! You can make mugs, decorative plates, wall hangings, etc. You can find tiles at hardware stores like Lowe's (cheap!). Hot glue a picture hanger to the back of the tile if you would like to hang it up. Check your local dollar store- they typically carry plain dishes. Just think of all the
fun presents
you and your child will enjoy making for family and friends!
I used
FolkArt Enamel paint
to create the ones you see on the blog. These are found at craft stores such as Michael's and JoAnn's. They run around $2 per paint so be sure to keep your eye out for those 50% off coupons. Just follow the easy directions on the back of the bottle- some require heating in the oven, air dry for days, handwash only. Make sure you protect your work surface and clean up any spills right away as the enamel paints aren't easily going to come off when dried (or not at all).
I'm so glad you stopped by. Come back to visit often. You never know what I might be growing in my Ladybug's Garden!